Time to Plant Beans
In the spring when there is no more danger of frost cooling the ground it is time to plant beans (beans can also be planted in the fall). Beans like the warm weather (but above 80 degrees F is too warm). Beans grown along vines which can grow high, and attach themselves to trellises or other structures.
These beanstalks are generally not as sturdy as those imagined by the storyteller who tells of the boy Jack, who climbs a beanstalk to the sky and encounters the giant who wants to eat little boys. Fe
This tale's historical coda's first line is "Fee-fi-fo-fum." It is generally used as the beginning of a quatrain (or sometimes couplet) famous in the classic English fairy tale "Jack and the Beanstalk".
Planting beans in the garden and sharing the tale of Jack and the Beanstalk with young readers is a great connection to begin their awareness of gardens, plantings, and so forth -- while sharing some great books that could be part of a continuing classroom comparing and contrasting traditional retellings and those fractured or literary versions that play off the classic motifs and themes.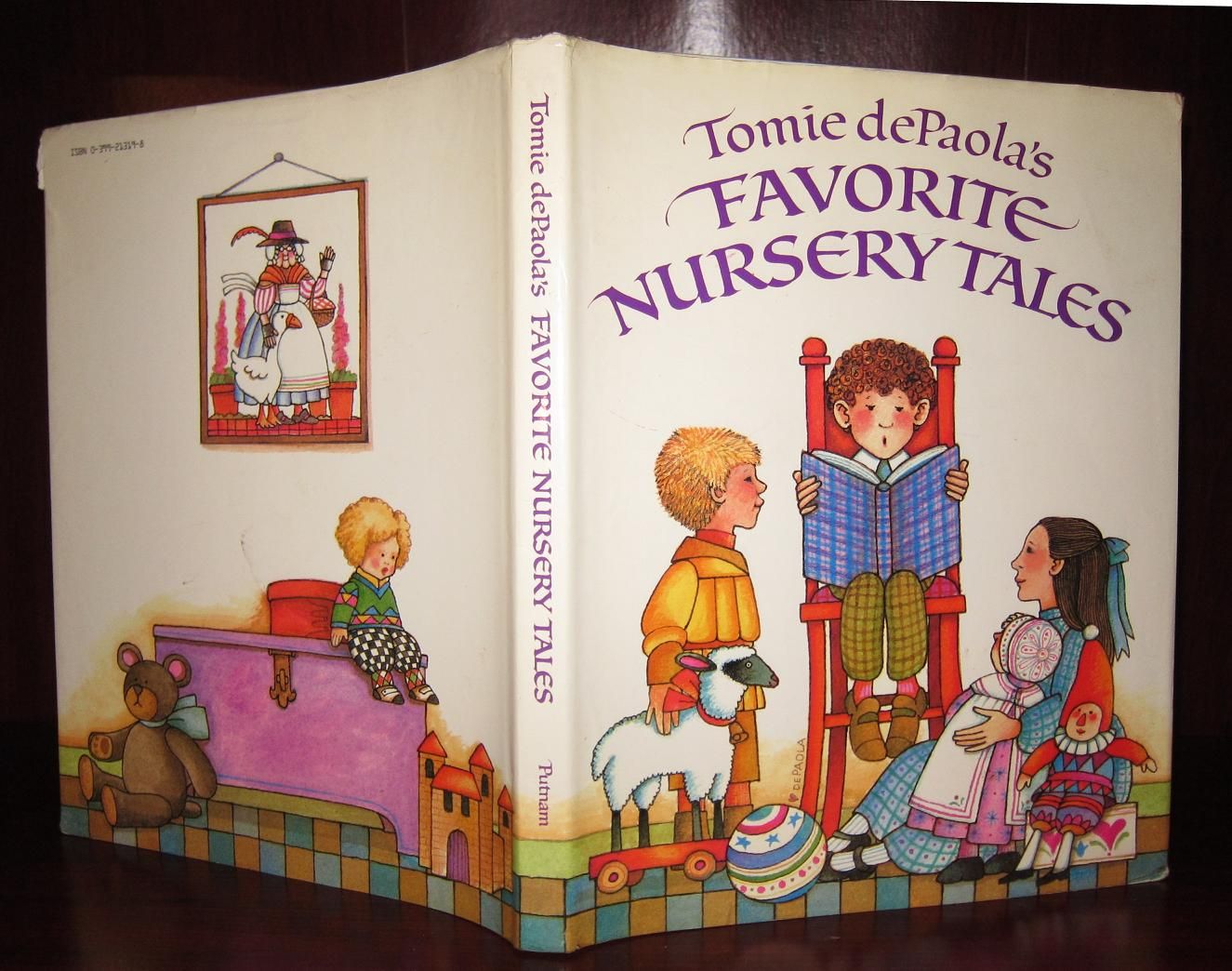 Try these traditional versions--I would first share these and look at how each of these traditional retellings have many of the same elements and scenes ... but with some of the details changed. The story grammar is very much the same.
Search for any version of the story in anthologies or collections. Those most authentic are generally based on the version of the tale by the English storyteller, Joseph Jacobs. One of my favorite collections is:
dePaola, Tomie. (1986)
Tomie dePaola's Favorite Nursery Tales
. Putnam Juvenile. (This collection contains many classic favorites: Three Bears and Goldilocks, Three Little Pigs, Jack and the Beanstalk and others.) This collection is out-of-print but certainly worth a search in libraries or out-of-print sources.
Individual retellings include:
deRegniers, Beatrice Schenk. (1990)
Jack and the Beanstalk: Retold in Verse for Boys and Girls to Read Themselves
. Illustrated by Anne Wilsdorf. Aladdin (pb). (In this version, deRegniers's husband felt she should not glorify a thief, so she made sure to include a statement within her retelling that explained that the giant had stolen the items from Jack's father years ago, and thus Jack was just retrieving goods that were rightfully the property of his family.)
Galdone, Paul. (2013 new edition)
Jack and the Beanstalk
. Illustrated by Paul Galdone. Houghton Mifflin Harcourt. (Original 8x11 inch sized edition was published in 1982 and is still available in paperback. I rather like the big shoe on the cover...; probably the most traditional of all the retelling.)
Kellogg, Steven. (1997)
Jack and the Beanstalk
. HarperCollins. (Based on Joseph Jacob's version of the classic story).
Kurtz, Jack. (2004).
Jump at the Sun: Jack and the Beanstalk
-Fairy Tale Classics. Disney-Hyperion.
Crews, Nina. (2011).
Jack and the Beanstalk
. Henry Holt & Co. (From Kirkus Reviews: Contemporary urban version of the ancient tale of beans and boy, with spiky parts rounded off. Stays pretty close to the original. Includes a contemporary and multicultural cast.)
~~~~~~~~~~~
And then share versions of the fractured retellings -- how did the reteller use the traditional motifs and how did the reteller make the story a unique tale.
Birdseye, Tom. (2001).
Look out, Jack! The giant is back!
Illustrated by Will Hillenbrand. New York,
NY: Holiday House. ISBN: 978-0-8234-1450-5. A sequel in which the giant's big brother comes after Jack, but Jack's quick mind gets him
out of trouble in the nick of time once again.
Briggs, Raymond. (1997)
Jim and the Beanstalk
. Penguin/Viking. (This is a sequel to the original, and has Jim (Jack's grandson) returning to the giant's home. Now the giant is near-sighted, needs false teeth, and is bald. Jim befriends him and climbs DOWN the beanstalk to get the giant eyeglasses, and in subsequent trips the gets false teeth, and a red curly wig. As a reward, the giant drops a giant gold coin (and a thank you letter) to earth as Jim climbs down for the final time.)
Fleming, Candace. (2010).
Jack takes the cake.
Illustrated by G. Brian Karas. New York, NY: Schwartz & Wade Books. ISBN: 978-0-375-95697-3. A poor boy named
Jack wants to deliver a birthday present fit for a princess.
Leedy, Loreen. (2013).
Jack & the hungry giant eat right with my plate
. Illustrated by Loreen Leedy. New York, NY: Holiday House. ISBN:978-0-8234-2602-7. A didactic version that has Jack being greeted by a kind giant who cooks him a nutritious meal. Jack learns about healthy eating habits from the giant and his wife.
Osborne, M. (2000).
Kate and the beanstalk.
Illustrated by Giselle Potter. New York, NY: Atheneum Books for Young Readers. ISBN: 0-689-82550-1. Kate uses her quick wits to outsmart the giant at the top of the beanstalk, and make a fortune.
Wildsmith, Brian. and Wildsmith, Rebecca. (1993).
Jack and the meanstalk.
Illustrated by Brian Wildsmith and New York, NY: Dial Books for Young Readers. ISBN 0-8037-128-6. The animals find a way to save the day when a scientist's (Jack) experiment to grow bigger vegetables threatens the whole Earth.
Each of these tales in this second list are literary or fractured tales built on the motifs and themes of the "Jack and the Beanstalk" tale.
Brian Wildsmith --
One title in this literary list that I was not familiar with was the Wildsmith title and I can't figure out how I missed that one. Brian Wildsmith is a great favorite of mine. One of the funny stories about him is when he visited schools he was often requested to autograph books --- he detested that part of the visit so he would invite a couple of children in the group to come up and help him autograph. They signed his name along with Wildsmith himself. And sometimes he would slip in an autograph that was in mirror writing. But that was years ago as he is 85 now and does not travel much. He has lived in France for decades (since the 70s). Of his four children, the youngest Simon is a printmaker in France, and his second child (oldest daughter) is a children's book writer. Rebecca Wildsmith has some very nice books on her own. A great duo when it comes to great books. My favorite of Brian Wildsmith's - because of its exquisite art is his wordless ABC (Oxford, 1962). I wanted to get two books, take them apart so I had 26 cards, and laminate them as alphabet cards in my library. In fact, I may still do that and put them in the grandchildren's playroom here at the house. Might be a fun addition. Or maybe just use the appropriate ones to spell out names or initials.
For curriculum suggestions involving Jack and the Beanstalk check out Steph Heath's pinterest board at
https://www.pinterest.com/stephheath89/jack-and-the-beanstalk-topic/
. She's got a great collection of activities that might interest teachers or parents.
And for those of you who wish to cook with beans, you will find them an excellent source of nutrition. For tips on cooking and using beans check out:
Sung, Esther. (n.d.) Our favorite bean dishes. Epicurious.com. Retrieved from
http://www.epicurious.com/archive/howtocook/dishes/beans
.
Or purchase a copy of
Bean by Bean: More than 175 Recipes for Fresh Beans, Dried Beans, Cool Beans, Hot Beans, Savory Beans, even Sweet Beans!
by
Crescent Dragonwagon
(Workman Pub., 2012).
Happy reading and cooking.
Sharron